Enter a world of darkness and miracles and hypno-dreams.
This is Shriekback. This art-funk outfit originally evolved around a three-man nucleus of Dave Allen (bass, ex-Gang Of Four,), Carl Marsh (guitar, vocals, ex-Out On Blue Six), and Barry Andrews (keyboards, vocals previously with XTC, Robert Fripp's League of Gentlemen and Restaurant For Dogs.) The trio fused funk and rock with a unique and complex rhythmic approach, creating a distinctive and influential sound. The first fruits of this project came in 1982 with the "Tench" EP and then the single, "Sexthinkone" on the Y label, followed by "Care," and it was the next two singles, "My Spine (Is the Bassline)" (1982) and "Lined Up" (1983), that established the band's trademark complex rhythms and chanted vocals. "Working On The Ground" helped secure a contract with Arista Records, who released Jam Science in 1984. The album, which featured drummer Martyn Barker, also spawned two excellent singles, "Hand On My Heart" and "Mercy Dash". The following year saw the
release of "Oil And Gold," which included "Nemesis," "Fish Below The Ice" and "Malaria". Although more commercially based, the band had lost that hard, infectious funk vein that was previously so predominant.

Carl Marsh left the band just before Shriekback moved to Island Records, yielded "Big Night Music" early in 1987, accompanied by the song "Gunning For The Buddha" a month earlier. "Get Down Tonight" followed in 1988, presaging the album "Go Bang!" (my personal favorite), which featured only Andrews and Barker from the early line-up (Dave Allen went on to work with King Swamp and Low Pop Suicide. Carl Marsh went on to record a solo album "Too Much Fun" in 1990 - featuring the UK hit single "Every Bone in My Body" and then in 1991 formed the band Happyhead, who only released one album entitled "Give Happyhead" and the UK hit "Fabulous.") New members included Mike Cozzi (guitar) and Sarah and Wendy Partridge (backing vocals), but Andrews and Barker ended this band line-up shortly afterwards. Those looking for an introduction to Shriekback might opt for "Big Night Music", a collection of what I think is the best of Shriekback, and "Go Bang", showing the different Shriekback line-ups' their varied sound.

Since then, there have been several further compilations, with the definitive "Priests And Kanibals" drawing from the band's work on Y, Arista and Island, "The Infinite", the early recordings, and "Aberrations."

In 1992, inspired by the UK's burgeoning dance music scene, Allen, Andrews and Barker re-formed to record "Sacred City", which also included contributions from Underworld's Karl Hyde. (Personally, I love "Sacred City". Its eerie and gloomy and sinister and simply delicious!) Barker and Andrews subsequently fronted various line-ups of the band for sporadic live work. "Naked Apes & Pond Life", the majority of which had actually been recorded back in 1995, was finally released in early 2000, and is well worth the acquisition, with remembrances of early Shriekback, heavy bass lines, tribal rhythms, and profound lyrics. News is that the boys are back in the studio working on their new album, release date unknown. So, as I say to all, may the fire be your friend, and the sea rock you gently, may the moonlight your way, til the wind sets you free...
(2005 update!!! -- Shriekback releases EP "Having a Moment" (with guest guitarist, Finn Andrews - Barry's son and front man of the Barry produced "Veils") in mid 2005. This Shriek-lineup was Finn Andrews, Barry Andrews, Martyn Barker, & Dave Allen.
2006 update!!! -- January, 2006, Shriekback releases first full length album in almost 15 years, "Cormorant". This incarnation of the band included Finn Andrews, Barry Andrews, Lu Edmonds, Martyn Barker, and Sarah Partridge) Check out all the 411, reviews, and purchase info @ www.shriekback.com)
Don't go drinking that dirty water
Don't go swimming in the bay today
Don't do nothing without looking first - say
Where's your coat when the sky's so grey?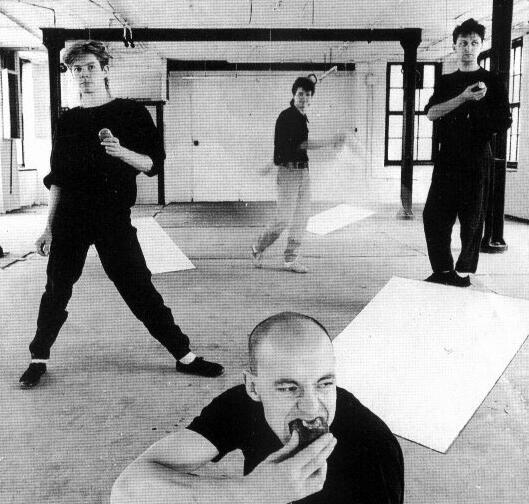 Barry Andrews, Carl Marsh, Martyn Barker, and Dave Allen ARE Shriekback.
PRIESTS AND KANIBALS, PREHISTORIC ANIMALS
EVERYBODY HAPPY AS THE DEAD COME HOME
BIG BLACK NEMESIS, PARTHENOGENESIS
EVERYBODY HAPPY AS THE DEAD COME HOME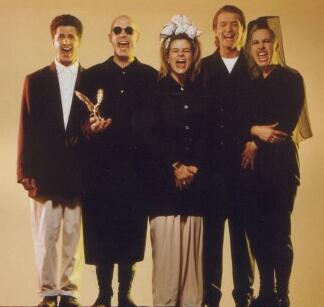 THE "GO BANG" GANG
(l-r: Mike Cozzi, Barry, Sara, Martyn, Wendy)
Like the falling leaves and the shifting past
Sometimes the treasured things are not the things that last.
And we know where we stand - between fear and desire:
With one fist raised in anger with one foot in the fire.