This picture was taken during my trip to Colorado, 10/01. During the early Fall, the ELK come down from the Rocky's to graze and I was lucky enough to catch an entire herd grazing peacefully off the side of the road. Notice the beautiful snow capped mountain peaks in the background. At this point, I believe we (me and sis) we about 6,000 feet above sea level. (Next time I WILL bring a canister of oxygen!!!)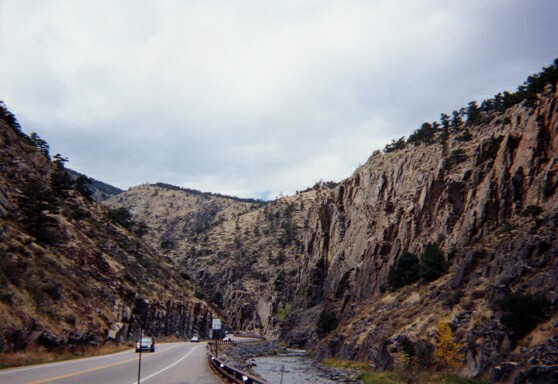 Driving up into the Rockies is a glorious experience, all the beautiful foliage, the fresh water streams along side the roads, occasional wildlife and majestic foothills. The incline is such that you dont really feel how high up you are going.......until you get to the top! WOW! This pic is at the very bottom just approaching the incline. 10/01
Oh beautiful, for spacious skies, for amber waves of grain. For purple mountains majesty, above the fruited plains. And notice the foothill mountains are actually purple!!! And you can see the sheer magnitude of the snowcapped background mountains against the evergreen tree to the right. Simply breathtaking (like hot pockets....uh...private joke.) We were about 7,000 feet above seal level here.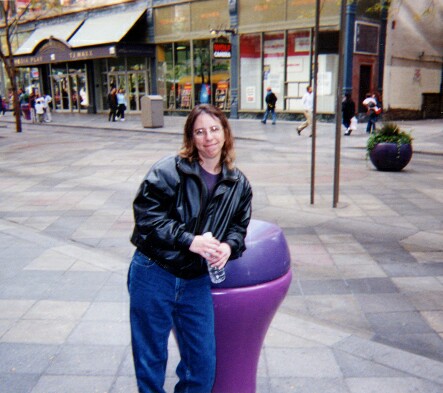 Here's a pic of my sister Jennifer, leaning on a sort of modular trash receptacle in downtown Denver, the mile high city. It was a little chilly that day and we toured the entirety of the 16th street mall (its SEVERAL blocks of nothing but stores, stores, stores, bars, stores, did I say stores?). 10/01
Look familiar? Yes, its me in front of the same trash receptacle as the previous pic of my sister, Jennifer. I spent too much frilling money in Denver that day, but hey, when you're on vacation it doesn't count right?

See that guy, the little one, off in the distance, well thats me. This was a fantastic photo opportunity (in fact the sign I'm standing next to recommended this spot for a photo..lol). The hills are truly alive in this part of the country, but I didnt see Julie Andrews singing about Doe the Deer or some shit. The weather was perfect for sightseeing, but as we went up into the mountains, it got windy and cold; I even saw snow (well, it IS Colorado).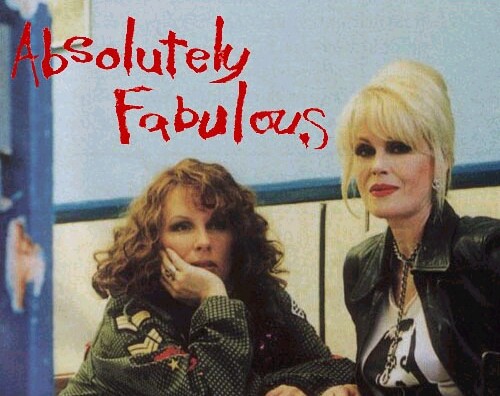 OK, THIS PIC AND LINK DON'T REALLY BELONG HERE BUT I LOVE JENNIFER SAUNDERS AND THINK AB FAB IS A SUPER SHOW SO DEAL WITH IT AND WATCH THE FUCKING SHOW, MONDAY NITES, 9PM EST. YES, SWEETIE DARLINGS, SIN IS IN, WITH THE RESURRECTION OF POSSIBLE THE GREATEST BRITISH COMEDY TO BE PRODUCED SINCE MONTY PYTHON'S FLYING CIRCUS. EDINA, PATSY, SAFFRON, GRAN ARE BACK AND UP TO THEIR OLD ANTICS, HOWEVER, THEY HAVE GROWN A BIT. CLICK THE PIC ABOVE TO BE TAKEN TO TOR'S SITE, THE BEST AB FAB SITE I HAVE EVER SEEN.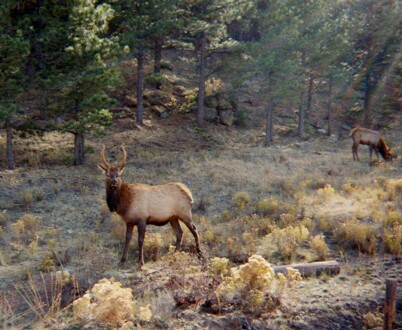 I literally ALMOST had to throw something at this ELK to get the fucker to look at me so I could take this picture. This was actually IN THE CITY of Estes Park, just across the street from a Waffle House or something, and I was ligned up with about 100 more people who were ALL TRYING TO GET THIS FUCKING ELK TO LOOK AT THEM, but I snapped the pic before it moved. These beasts are wonderful. And quite tasty ground, seasoned, char broiled on a bun with Lettuce tomato & cheese.
I hope you enjoyed my trip to Colorado as much as I did. I'll be back there in May 2002, when Jennifer graduates with her PhD from Colorado State. 11/01

Below are a few pix from one of my visits to Mardi Gras, in New Orleans. (parental discretion advised >:>)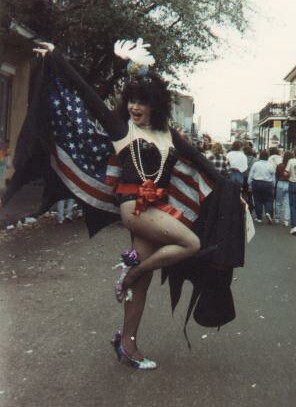 MARDI GRAS, 1990!!! DRAG QUEENS, ILLICIT SEX, DEBAUCHERY, AND RIVERS OF BOOZE!!! I HAD A BALL!! (and NO NO NO, this is NOT a picture of me!!!!)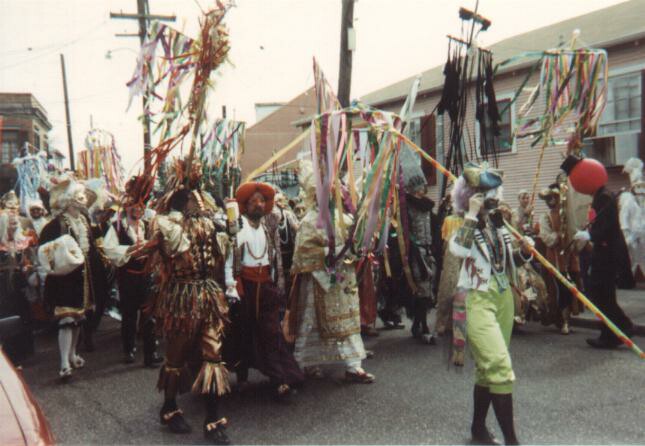 ONE OF THE MANY PARADES THAT OCCUR DURING THE MARDI GRAS FESTIVAL. I CAUGHT THIS ONE GOING DOWN A SIDE STREET, OBVIOUSLY ON THEIR WAY TO OBTAIN MORE LIBATION!!!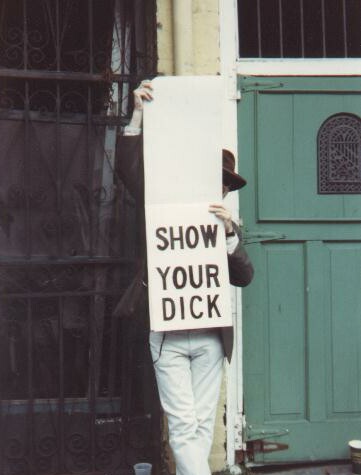 IF YOU WANT TO EARN YOUR BEADS, YOU BETTER DO WHAT THE SIGN SAYS. AND LET ME TELL YOU, I HAVE BOXES OF BEADS I EARNED BY SHOWING MY "STUFF." THIS WAS PROBABLY THE BEST TIME I'VE EVER HAD ON A VACATION. MARDI GRAS IS SOMETHING EVERYONE SHOULD EXPERIENCE, A FESTIVAL YOU'LL NEVER FORGET. SURE, GO AHEAD, HAVE ANOTHER HURRICANE!!!
It was a mercy killing.....
He had a certain...naive charm...but
no spark!